Are you using a gas stove? Or perhaps planning to buy one?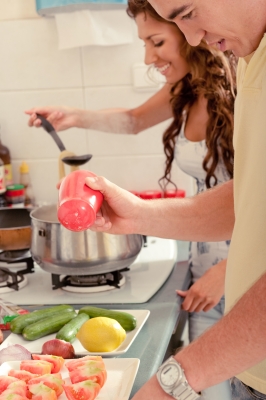 The stove is the center of any kitchen, and can be one of your biggest investments in your home appliances. While purchasing a new stove can get expensive – depending on the type, model, features and brand – it can last for a long time if used and maintained properly. You can also make the spend worth it by buying one that is most suited for your needs.
While stoves come in electric and gas types, gas stoves are more commonly used in the UK. This is because even though gas stoves are usually more expensive than their electric counterparts, they are generally more cost efficient to use and maintain. Gas stove ranges are one of the most popular types because they combine the benefits of having a burner flame and oven for baking. (read more about troubleshooting a gas range)
If you are thinking about making the purchase, the pros and cons of using a gas stove listed below may help you make that decision.
PROS
It is easier to precisely control the temperature to allow better culinary effect.
It does not need power supply allowing you to cook – and bake, if you are using a gas range – even during a power outage.
It heats up and cools down faster than electric stoves and are therefore more efficient to use.
Because natural gas is inexpensive and abundantly available, natural gas stoves are less expensive to operate.
Using a gas stove leaves less ambient heat to the rest of the kitchen.
There is no waiting time; heat is available as soon as you turn the burner on.
Heat distribution is more even.
CONS
There are more health and safety risks associated with using a gas stove. Gas leaks and carbon monoxide leaks are especially fatal. (read more about carbon monoxide detector)
There are less oven options.
Gas ovens are more expensive to buy and install.
If you are using a gas stove with an oven, the latter usually bakes less evenly. (learn more about the common problems with gas ovens)
If you are already using a gas stove and you need someone to help you with repairs or maintenance, our RJ Gas engineers are experienced and trained to do the job.