Do you need a boiler installation? Our heating engineers at RJ Gas Heating Services are just a call away.
Need for Boiler Installation
Is your old heating system giving you a hard time? If your old boiler keeps breaking down on a frequent basis and is racking up costly bills in form of repairs, then it is definitely the time for a new boiler installation.
Boiler Installation and RJ Gas Heating Services
We have had the same gas service shop for over 35 years now and we have the experience and good business practices that will get the job done with as little fuss as possible. This is the reason we have stayed operational in the field of boiler installation and other heating services for so many years.
Boiler Installation by RJ Gas – An Example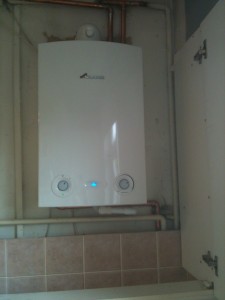 We have changed a 10-12 year old Potterton Combi boiler for this Main Eco 25HE combi boiler. The customer called us in because their boiler was frequently breaking down and they had no hot water. We arrived as fast as we could only to discover that the problem was with the printed circuit mother board.
This could have probably cost our customer £300 and upwards. To replace such a costly part for an old boiler with no efficiency made little sense. We told the same thing to the customer and advised him to go for a new boiler instead of investing on the unreliable old machine.
We gave a quote for a boiler installation and it was fitted in 6 hours!
They had a new A-rated boiler working perfectly and were thrilled with how quickly hot water was running through their taps. If it takes a long time for you to get hot water through your taps it is a clue that your boiler is not running at its best.
There isn't always a need for new Boiler Installation!!
That being said, never let anyone tell you that, "spare parts of your old boiler are no longer available in the market and the only solution to your problem is new boiler installation."  That is absolutely untrue. If you prefer to replace parts and cannot afford a new gas boiler, just give us a call. We can repair any boiler, anywhere.
If you are facing such problems, please give us a call. Our professionals will come down, check things out, and consult you on the best way to get your heating system running. Unless, a new boiler installation is imperative, we at RJ Gas Heating Services would not recommend it and try to fix the problem well within your budget.